Are there Aliens? Through the centuries there have been numerous sightings.
There are Petroglyphs dating back thousands of years ago by ancient American Southwest Indians. According to Indian folklore, two objects collided in the sky and one crash-landed in the region below (Death Valley.) Local Indians stood by as men arrived from another ship to repair the damaged craft.
Colonial Massachusetts Governor Spots an UFO
In 1639, over the Charles River in Boston, John Winthrop made an entry in his journal about a UFO sighting, stating lights sped back and forth across the Charles River from Back Bay Fens to Charlestown.
The first highly publicized UFO sighting occurred on April 17, 1897, in a tiny Texan community called Auroa. This unique sighting occurred before the invention of the first airplane. The story: A slow moving spaceship crashed into a a windmill. When the authorities searched through the debris, they discovered an alien. They dubbed the pilot the "Martian pilot", and buried the body in the cemetery.
1940s World War II:  Small metallic spheres and colorful balls of light were spotted and photographed by bomber crews. They called these sightings 'foo fighters'.
One of the most popular sightings recorded was in 1947, about 30 miles north of Roswell, New Mexico. The US Army allegedly captured aliens and a flying saucer.  Later, it was explained away as a weather balloon. In 1978, S.T, Friedman reopened the investigation, making some believe the sighting to be real and the government tried to cover it up.
Dec. 16. 195, Clarence Johnson, who was the designer of the F-104, U-2, and the SR-71, and his wife spotted a large Flying Wing over the Pacific from where they stood in Agoura. Around the same time, the crews aboard the WV-2 spotted the craft from Long Beach, CA USAF. It was later explained away as they saw a lenticular cloud even though Johnson didn't believe the ruling to be correct.
1966,In Point Pleasant, West Virginia, people reported seeing winged humanoid creatures and other mysterious events that included UFO sighting. This is referred to the Mothman Prophcies.  (Did anyone happen to see Mothman, starring Richard Gere?)
1973 Skylab 3 UFO Encounter. Astronauts, Alan Bean, Owen Garriott and Jack Lousma spotted a UFO. Their evidence was blurry photographs of this said UFO.
1983 Copely Woods Encounter (a suburb of Indianapolis, Indiana) Hundreds of Basket-sized balls of light were spotted around a neighborhood. They left obvious marks, proving they were real.
1998 Graaff-Reinet sighting in South Africa: The Laubscher family videotaped a group of triangular craft, passing over Graff-Reinet. The crafts changed colors and circled one another before a larger gold-colored craft overtook the smaller crafts before disappearing into the clouds.
2001 on the New Jersey Turnpike, around 15 people stopped their cars to view light formations in the night sky. Two of the witnesses were police officers.
2014 Houston, Texas, people witnessed seeing a ring of lights during a thunderstorm. The event was captured on video.
So do you believe Aliens have visited our planet?  Have you seen a UFO? Please do share. :)
About the Author:
Karen Michelle Nutt resides in California with her husband, three fascinating children, and houseful of demanding pets. Jack, her Chihuahua/Yorkshire terrier is her writing buddy and sits long hours with her at the computer.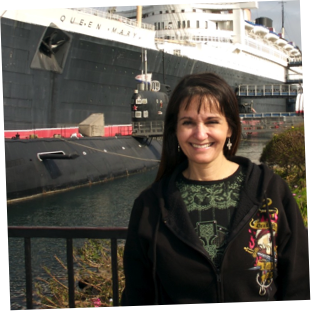 Her new passion is creating book covers for Western Trail Blazers and Rebecca J. Vickery Publishing. In her spare time, she reviews books for PNR-Paranormal Romance Reviews.
Whether your reading fancy is paranormal, historical or time travel, all her stories capture the rich array of emotions that accompany the most fabulous human phenomena—falling in love.
Visit the author at: http://www.kmnbooks.com
Stop by her blog for Monday interviews, chats and contests at:
http://kmnbooks.blogspot.com